Family and Child Gallery Wall | Northern VA Baby Photographer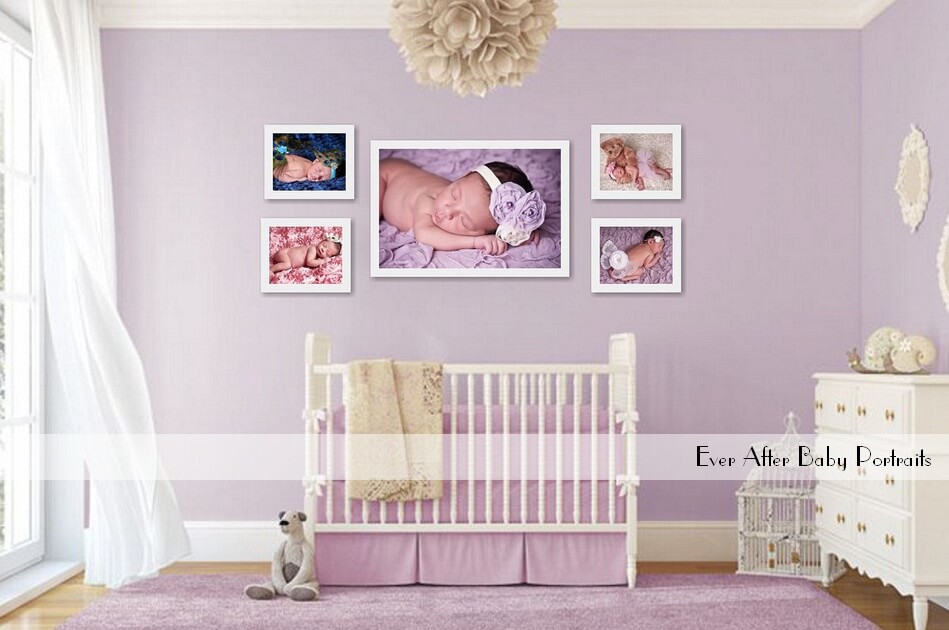 The very exciting thing about taking maternity photos here in the Leesburg, VA area is knowing that soon after our portrait sessions, new life will be brought into this world. Oh, how we love babies! So when clients ask us how they could use portraits to decorate their nurseries, we are all too happy to provide some ideas. Here are a few tips below.
Child's Gallery Wall
Why not create a portrait gallery wall of your baby's pictures? Start with a selection of newborn portraits. As you do more portraits of them (and you should), you can swap out a few for the more recent pictures. Through the years, the wall of portraits becomes a timeline of their childhood! It's a touching way to show them how they've grown through the years.
Family & Child Gallery Wall
Another great idea is to create a family portrait gallery wall in your child's nursery. You can blend your baby's pictures with family portraits. It is a loving way to reflect your family while showing your child how proud you are of them. It demonstrates to your child how they are part of something bigger than just them. They are not alone!
Siblings
If there are siblings, it can be fun to display portraits of the siblings together in each other's rooms. The only child has had pictures of herself in her room. When her new sibling is born, you add a portrait of the two of them into both the nursery and the older sister's room. The new pictures are a terrific way to reflect the sisters' new bond. As the girls grow, you continue to either add portraits or swap out portraits. Displaying siblings together in photos is a loving and touching way of emphasizing their love and their bonds. It also shows your children how much you value their relationship.
Other Ideas
If you would rather not display on walls, you can order albums for each child featuring an array of portraits of themselves, family, and siblings. A portrait album for each child becomes a treasured possession for them.
When each child is born, you can order a Portrait Cube. Save it until the day it can be displayed in their room with pride, love, and a tad bit of respect (no chewing on it!). One day they'll enjoy seeing themselves on a nifty cube!
Coordinating Design
We can assist you with coordinating your wall art design by using our special software. We can help you coordinate any portrait session so that it blends smoothly and very well into any room or on any wall in your home! We do it very often for nurseries! With a little bit of planning, you can decide whether you want a black and white or color portrait for the nursery.
Is the nursery designed with a particular color theme? We can incorporate that into the portrait. In a yellow nursery, a newborn picture featuring one item in yellow will look spectacular on the nursery's wall! The look is cohesive and smart.
Thinking of how to decorate your baby's nursery with portraits can be a lot of fun and bring you a lot of joy. If you are doing your newborn and maternity photos with us here in the Leesburg, VA area, we can discuss how we can help you. If you would simply like to work with us to do your children's portraits, we'd love to do that as well!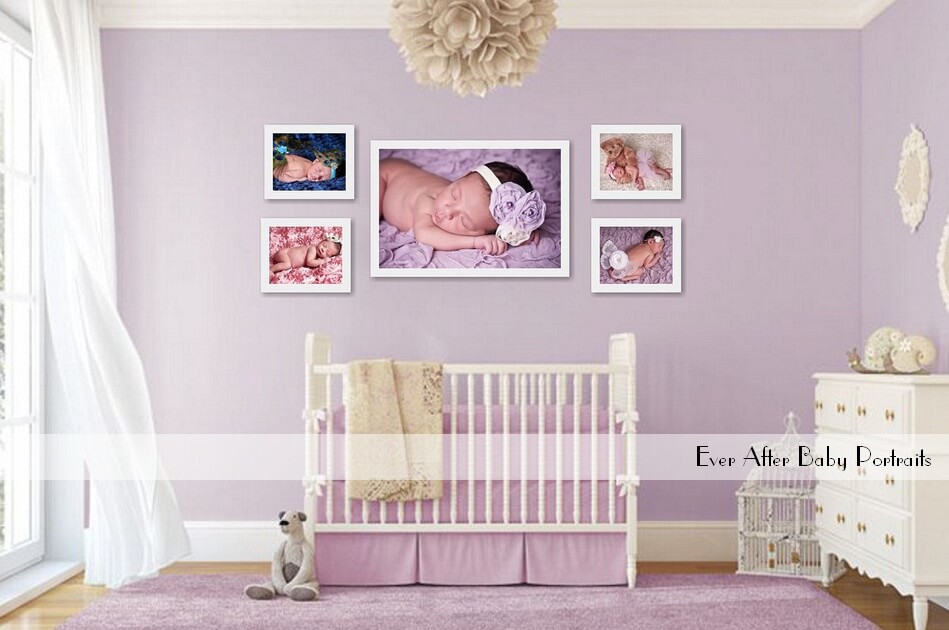 Baby Photography, Baby and Newborn Photographer, Maternity Photos
Ever After Baby Portraits is comprised of Mindy Belcher and Joriana Belcher Anderson, a mother-daughter baby photography team located near Leesburg, VA in Northern Virginia. We specialize in timeless and emotive fine art family portraits, including maternity photos, and newborn and baby portraits. Family means everything and capturing those precious moments to preserve forever will mean family heirlooms for you to share for years to come.
Best,
Mindy & Joriana – Contact Us!
Related Posts:
Comments
comments
Powered by Facebook Comments