McKenzie and Kennedy, Bebe Coterie Portraits | Northern VA Baby Photographer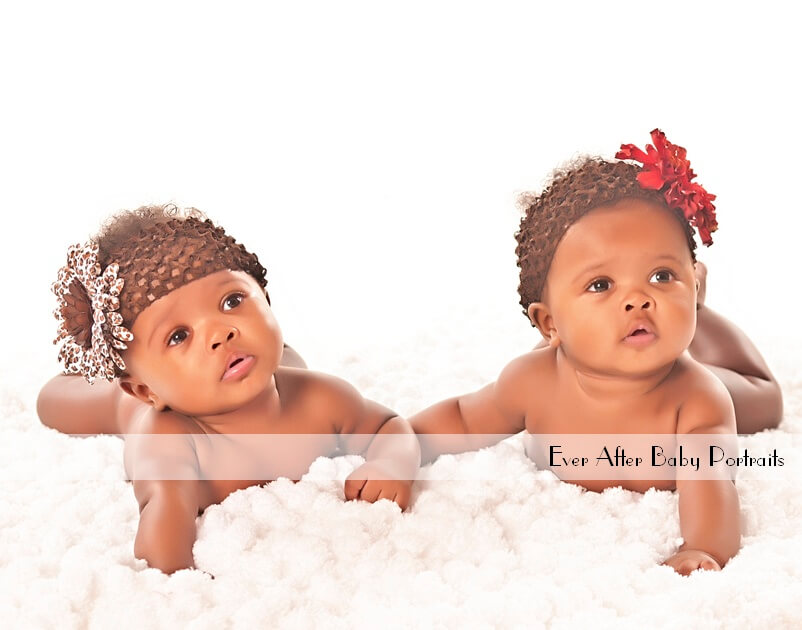 Sometimes the most precious things in life come a little early. That's a lesson we understand well from experience. As a Dulles, VA and Brambleton, VA portrait photography studio specializing in newborn and baby photography, when we schedule a newborn's first portrait session we mark it as "tentative." Babies set their own schedules!
The doubly-adorable McKenzie and Kennedy arrived earlier than their parents expected but the girls brought unparalleled joy and love with them when they made their early entrance into the world. These chubby-cheeked cherubs seem to radiate whenever they smile!
The twins' parents Ashley and Gary purchased our Bebe Coterie Baby Plan. Ashley had been searching for a newborn photographer in Northern Virginia who could appreciate and capture the girls' bright personalities and their beautiful smiles in several close-ups. Honestly, the twins' endearing smiles made it relatively easy (and a great joy!) for us to take their pictures and achieve the results we did. As with most baby and newborn photography, these were their first family portraits and we wanted to be certain to do the very best for these joyful parents.
It was wonderful for us to witness how much these once-premature twin girls thrived throughout their first year of life! We feature them in our online gallery, and their portraits truly represent the authenticity we strive for when shooting newborn and baby photography.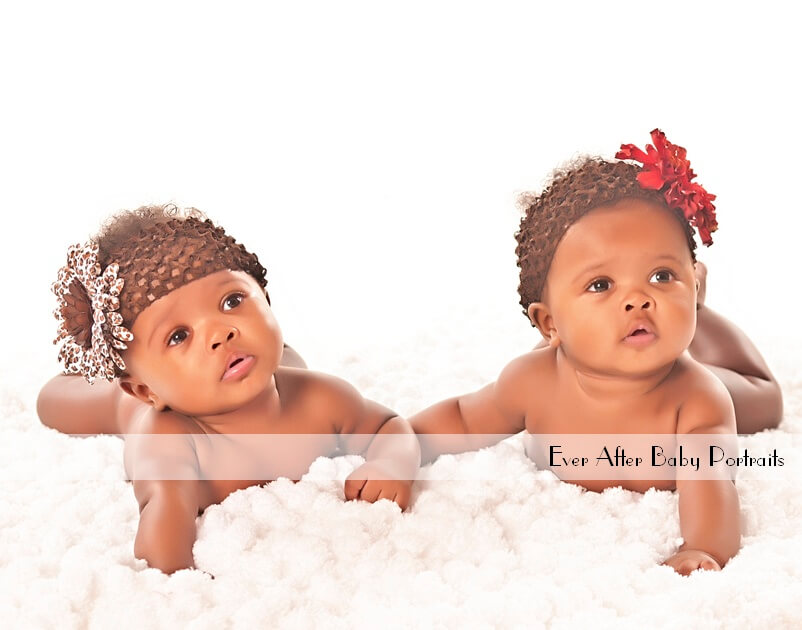 If Ashley and Gary's wall art choices say anything, then we can say they loved the portraits we took! Those chose a contemporary frameless finish called Ice for their wall collection, and it was perfect for the wall in their living room. It's a sleek look for any home and captures the depth and saturation of colors so well.
Besides the wall art, they also chose one of our high-quality Portrait Boxes for all of the other favorites portraits from the twins' Bebe Coterie sessions throughout their first year of life.

If you would like to work with a portrait photography studio in the Dulles, VA and Brambleton, VA area specializing not just in newborn and baby photography but in authenticity, contact us! We would love to meet your child and the rest of your family. We understand how precious life is, which is why we devote our professional lives to documenting it!
Baby Photography, Baby Photographer, Portrait Photography Studio
Ever After Baby Portraits is comprised of Mindy Belcher and Joriana Belcher Anderson, a mother-daughter baby photography team located in Dulles, VA in Northern Virginia, near Brambleton, VA. We specialize in timeless and emotive fine art family portraits, including newborn and baby portraits. Family means everything and capturing those precious moments to preserve forever will mean family heirlooms for you to share for years to come.
Best,
Mindy & Joriana – Contact Us!
Related Posts:
Comments
comments
Powered by Facebook Comments